Over the last decade Bristol Historic Buildings has needed specialist skills to help restore buildings to their former glory. We've worked with some fantastic craftsmen and women who have shown that the crafts necessary to work on these buildings are still very much alive. We've listed some of the crafts people below but give our gratitude to all those who have helped us.
Atwills Stone Company Ltd
Atwills Stone Company Ltd have worked on each of these projects and have transformed them all.  They have repaired dropped keystones, hand carved missing corbles, re-instated all of the massive front steps that had badly slipped at Kings Weston House and water-cleaned the entire building exterior to beautifully restore the vibrancy of the stone.
Smart Landscape Design is a design-led company with a focus on landscaping spaces that are detailed, personal, imaginative and rewarding. With Kings Weston House a masterplan for the grounds was designed with the intention of enhancing the house itself and also reflecting the progressive vision of its architect Sir John Vanbrugh. The result has been extensive landscaping to create large formal borders, pathways and lawns, including an 80m long rill water feature. 
Bristol Woodtech Ltd have helped with a number of projects at Kings Weston House. Original sash windows were found to be beyond repair and Bristol Woodtech made identical replacement windows.  They crafted spiralled bannisters to match the original 1700s ones in the spiral stair case.
E.I. Flood is an award winning and highly professional ornamental plastering company based in Bristol UK. Utilising skills and techniques beyond the capabilities of many ordinary plastering companies, E.I. Flood have worked on some of the most pestigious buildings in the country and around europe.
At Kings Weston House E.I. Flood and Sons restored the damaged coving in the Vanbrugh room, restoring the magnificence of this main function room.
East Somerset Timber Frame Carpentry Co.
Based in Frome, the East Somerset Timber Frame Carpentry Co. are a timber frame carpentry company specialising in designing & building new timber framed structures and the conservation of historic timber buildings.
They have been instrumental in the rebuild of the roof for the St Michael's church project.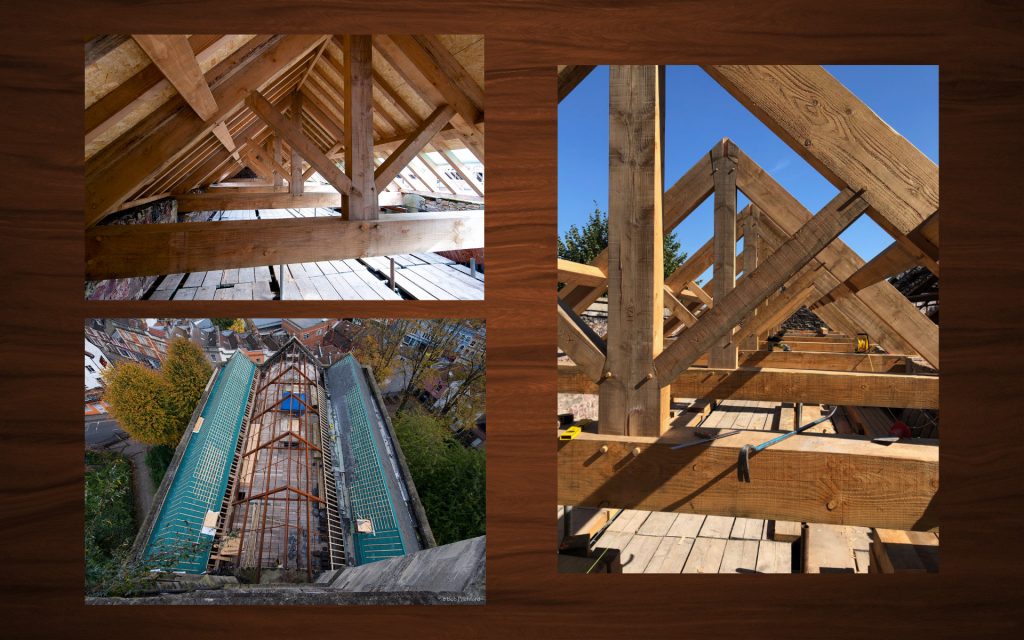 The International Fine Art Conservation Studios (IFACS) have cleaned and restored the Trompe L'oeil paintings in the Great Hall at Kings Weston House to their original eye-fooling magnificence. The Trompe L'oeil  (French for "deceive the eye") technique is intended to create an optical illusion that depicted objects exist in three dimensions.  Restoration of this type of painting is extremely specialised.
Quentin Alder Architects is a small award winning practice in Bristol. They specialise in historic and listed buildings, alteration, extension and conservation, together with new building in sensitive locations. They aim for environment conscious construction.
Quentin Alder Architects have been with us since the original Wesleyan Chapel project.